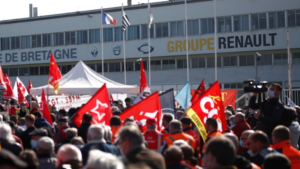 A Renault északnyugat-franciaországi autóalkatrész gyárának dolgozói egy kétségbeesett "főnökrablási" kísérlet keretében megakadályozták, hogy a vállalat hét vezetője elhagyja az üzemet, remélve, hogy ezzel az akciójukkal meghiúsul az autógyár helyi létesítményének eladására vonatkozó terve.
A Renault bretagne-i Fonderie de Bretagne gyárában sztrájkoló mintegy 350 dolgozó kedden "túszul ejtett" hét vezetőt. A munkavállalók kétségbeesésükben nem engedték ki az üzem épületéből a vezetőséget, így próbálva nyomást gyakorolni rájuk. A kellemetlen incidensre azt követően került sor, hogy az autógyártó bejelentette a létesítmény eladását vagy vevő híján a gyár végleges bezárását.
Miután többször is megpróbálták meggyőzni a dolgozókat, hogy engedjék el a vezetőket helyi idő szerint kedden 22:30 körül végül megenyhült a munkavállalók szíve és bár a gyár blokádja szerdán is folytatódott, a főnökök végül elhagyhatták az épületet. Az autógyártó rövid közleményben komoly kritikát fogalmazott meg a munkások viselkedésével kapcsolatban, miközben párbeszédre és nyugalomra szólította fel őket.
A Renault Csoport határozottan elítéli ezeket az akciókat, és a blokád feloldására, valamint a nyugalom azonnali helyreállítására hívta fel a figyelmet.
Franciaországban már többször is előfordult hasonló eset
A Renault megpróbálta lecsillapítani az elégedetlenkedő dolgozókat, mondván, hogy olyan vevőt keres, aki nem zárja be az üzemet (az esetek többségében mégis bezárja), de ezzel sem sikerült megnyugtatni őket. Az alkalmazottakat védő szakszervezet azt állította, hogy a munkavállalók szívesen leülnének tárgyalni a vállalat vezetőségével, de a cég ezt visszautasította.
"Továbbra sem akarnak párbeszédet folytatni, így értelmetlen volt olyan emberekkel próbálni beszélni, akik nem mutatna hajlandóságot" – mondta az AFP-nek Mael Le Goff, a CGT képviselője, aki a munkások "túszejtő" akciójával egyetértett. Le Goff a helyi hírügynökségnek azt nyilatkozta, hogy a telephelyet valószínűleg bezárják, így a Renault hamis ígéreteinek már nem dől be senki.
"Szeretnénk megkérdezni tőlük, hogy mi lesz velünk, ha eladnak minket, ha elbocsátanak… Már egy éve várunk… Már nem reménykedünk" – tette hozzá a férfi.
A szakszervezet jelenleg május 1-jére tüntetést tervez a bretagne-i Hennebont városában, valamint a bretagne-i regionális tanács elnökével, Loig Chesnais-Girarddal fog találkozni.
A keddi eset nem az első "főnökrablás" az országban. Még 2014-ben az észak-franciaországi Goodyear gumiabroncsgyár munkásai több mint 12 napig tartottak fogva két vezetőt, hogy így próbálják megakadályozni a gyár bezárását. A gyakorlat annyira elterjedt Nicolas Sarkozy volt elnök hivatali ideje alatt, hogy azzal fenyegetőzött, a rendőrségnek extra hatásköröket ad arra, hogy erőszakkal is megállíthassák a feldühödött dolgozókat. Magyarországon még ilyenre nem volt példa. Nem vagyunk benne biztosak, hogy bárhol is ehhez folyamodnának a munkavállalók…
Megjelent a BitcoinBázis oldalon.